Enhance your conference experience by attending a pre-conference intensive workshop or community immersion experience.
Gain special access to health equity leaders, workshops, and community experiences based on your organization's unique needs and your personal interests. These add-on sessions give you the opportunity to enhance your health equity conference experience by taking a deeper dive into important topics that matter to you and your organization.
Learn from experts, engage with other attendees, and visit local hospitals and community organizations to experience programs firsthand.
The early bird rate is $100. Starting April 1, the rate increases to $150.
Registration is required
Must also be registered for the conference
Seating is limited and availability is first come, first served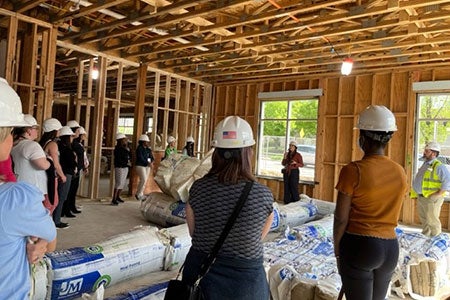 Community Immersion Experience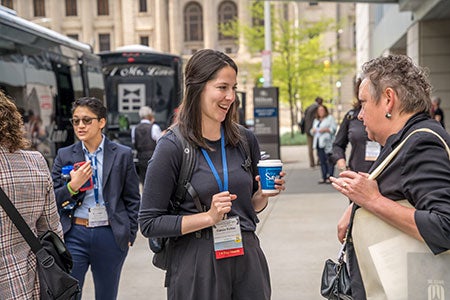 Community Immersion Experience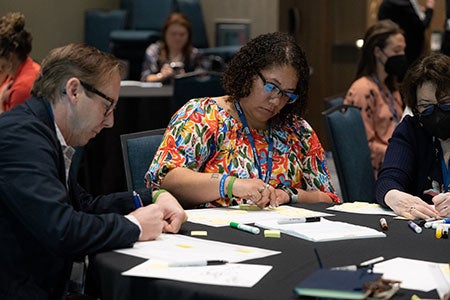 Workshop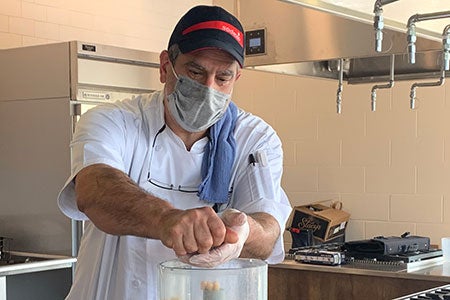 Community Immersion Experience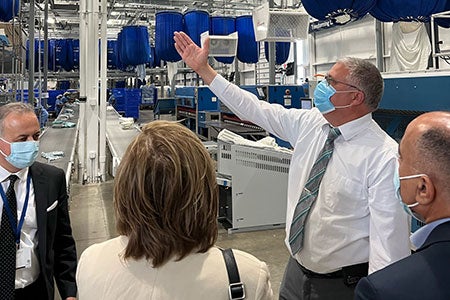 Community Immersion Experience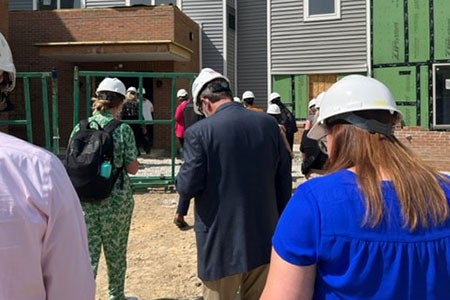 Community Immersion Experience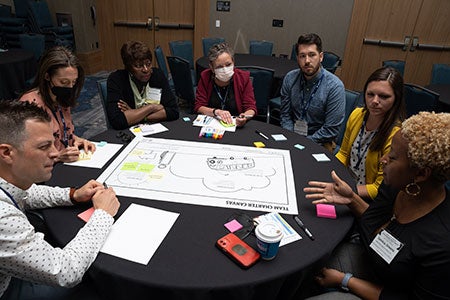 Workshop
"The entire field experience was excellent. I love that we got to visit 3 locations, each with different impacts on healthcare (clinic, community space, access to food). I felt very appreciative of the number of busy professionals who took the time to speak with us and answer our questions. Visiting such diverse sites working on innovative projects helped spark creative ideas for my own work and community. I especially enjoyed how my field experience related to the EventExtra panel of that morning -- it gave great context for what we were seeing. I would highly recommend continuing this element of the ACHI conference."
Maricopa County Department of Public Health
Pre-Conference Intensive Workshops | Tuesday, May 16, 10:00 am – 12:00 pm CT
Pre-conference intensive workshops offer conference attendees the opportunity to take a deep dive into specific topics by learning from experts and engaging with other attendees.
Using Your Hospital's Portfolio to Invest in Community Health
Across the country, hospitals are leveraging assets, including land, capital, relationships, and expertise, to reduce health disparities and ensure that people can lead healthy lives, whatever their zip code. This session will share lessons for institutions considering or launching community investment initiatives. Drawing on resources developed with AHA's Center for Health Innovation, the Catholic Health Association of the United States, and NeighborWorks America, participants will explore ways to build community investment strategies, points of entry into the process, and roles that their health system might fill in the investment landscape. They will learn to build strategies by selecting partners, setting appropriate targets, identifying investment opportunities, and leveraging health system resources. Participants will return home ready to engage with colleagues and local partners in formulating and executing an ambitious yet realistic strategy that serves the mission of their institution, strengthens its standing in the community, and contributes to community wellbeing and health equity.
Community Health Workers are the Bridge between Care and Community
As health care organizations continue to build their health equity and population health strategies, interdisciplinary care teams are instrumental to addressing their patients' medical and social needs. Community health workers are uniquely positioned to bridge clinical care and community. Join this workshop to explore how to make the case for embedding community health workers into care teams and learn what it takes to set up a robust and sustainable CHW program.
Renewed Resources for Community Health Assessment and Improvement Planning
Hospitals, local health departments and community-based social service agencies conduct regular assessments of the health-related assets and needs of the communities they serve. To support these efforts, the American Hospital Association (AHA), the Catholic Health Association (CHA) and the National Association of County and City Health Officials (NACCHO) each provide guidance and tools on how to facilitate and engage in community health assessment and improvement efforts to their constituents. All three organizations recently updated their respective guidance (AHA's Community Health Assessment Toolkit, CHA's Community Benefit Guide, and NACCHO's Mobilizing for Action through Planning and Partnerships) to align with current practice and to more intentionally center health equity, including through partnerships and authentic community collaboration. Join this session to learn about these updated resources; to hear how hospitals, local health departments and community-based agencies are evolving their assessment and improvement planning practices; and to participate in a series of interactive exercises focused on more collaboratively and equitably understanding and addressing the strengths and needs of your communities.
Community Immersion Experiences | Wednesday, May 17, 3:00 – 6:00 pm CT
Community Immersion Experiences offer conference attendees the opportunity to visit local hospitals and community organizations to experience programs firsthand. Attendees will leave the hotel by bus and should wear comfortable clothing and shoes.
Allina Health
At Allina Health, we believe everyone deserves Whole Person Care that recognizes all factors affecting health, including mind, body, spirit, and community. We're committed to transforming care for our communities and delivering Whole Person Care as part of our Population Health efforts. That means ensuring our patients receive the right care, at the right place, at the right time. Our approach to advancing health equity requires adaptive and transformational change and innovation to ensure our whole person care approach to population health includes an intentional focus on eliminating health disparities in access, experience, and outcomes.
This field trip will provide an overview of:
Allina Health's Population Health and Health Equity Strategy and our commitment to Diversity, Equity, Inclusion and Belonging, and how this work is coming to life for our patients and communities
An opportunity to experience the Midtown Global Market, a bustling internationally themed market with stalls selling food & crafts from around the world
An immersive experience about collaboration and delivering culturally-responsive care with an Allina Health community partner – Open Path Resources, a Minnesota-based nonprofit that serves East African immigrant families and community-led centers by building their capacity to have greater influence upon public policies that affect their current and future interests.
Children's Minnesota
As the largest pediatric health system in the state, Children's Minnesota knows that health care needs exist beyond the walls of our hospitals and clinics. In order to make a real impact, Children's Minnesota is partnering with local community organizations to ensure that health resources are available where kids and families live, work and play. This field visit will include a trip to Phyllis Wheatley Community Center and Second Harvest Heartland to showcase two examples of Children's Minnesota's work in advancing health with community partners. At Phyllis Wheatley Community Center, participants will learn about how Children's Minnesota is expanding access to mental health services for kids. At Second Harvest Heartland, participants will learn about Children's Minnesota's Community Connect program which addresses the social determinants of health of patient families.
Hennepin
Join the Hennepin Healthcare Systems (HHS) Health Equity Department for a tour of the Clinic and Specialty Care Building, where attendees will learn about the development of a health equity department in a level 1 trauma center safety net hospital, and its program that focuses on health equity and anti-racism. Next, attendees will visit the HHS East Lake Clinic that was destroyed in a fire during the social unrest after the murder of George Floyd. The HHS East Lake Clinic, which largely served Latinx, Black and Somali residents, left them without an easily accessible community clinic after the fire. HHS promptly began rebuilding the clinic, collaborating with the community and Hennepin County. The space is located in the community county services building, providing easy access to well-rounded resources. Join in a tour of the space and hear from staff about rebuilding the community clinic.
M Health Fairview
Visit two M Health Fairview place-based partnership sites advancing health equity in collaboration with community. First, tour the M Health Fairview Health Commons, a drop-in health and wellness center located within the Riverside housing complex in Minneapolis that has provided free healthcare services to the Cedar Riverside neighborhood since 2014. Learn about this transcultural nursing model and partnership between the Augsburg University Department of Nursing, East Africa Health Project, and People's Center Health Services. Then, explore the new Fairview Community Health and Wellness Hub opened in the former St. Joseph's Hospital in downtown St. Paul. The hub is a first-of-its-kind center that seeks to address health disparities while providing a range of critical healthcare services and community resources alongside trusted local partners. Community members can access a variety of services at the hub – from primary and mental health care to enrichment options for seniors, food access programs, and community gathering spaces. The hub is also home to the newly launched M Health Fairview Center for Community Health Equity which leads the health system's Food is Medicine, Housing is Health, and Connection is Cure initiatives.
See the full Agenda-At-A-Glance